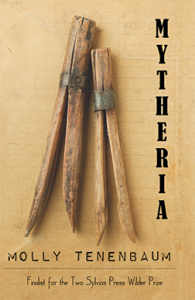 Mytheria: from Two Sylvias Press.
"It doesn't matter / where the door is," Tenenbaum tells us in these wonderfully elastic, precise and startling poems. Days are syntax rather than narrative, framing finely musical, and often playful, poems drawn from an inventive reweaving of everyday materials. These poems reimagine the figures of mother, father, daughter, and lover–in an ode to her "collapsible mother," the speaker says, "I carry her in my compact, / drink her from my travel cup"–within a lush and shifting natural landscape swerving with bicycles and "Geiger-tail" dogs. These are poems as vascular acts, circling as blood circles through a body: weirdly, expansively, perfectly direct. –Megan Snyder-Camp

The Cupboard Artist: from Floating Bridge Press.
"In The Cupboard Artist we get mauve and jet and puce and garnet, bronze gold thread, and flame. We get caterpillar yarn, chocolate suede, clotted malt, and firefall velvet dresses and blue aromas of pine. We get braids of burlap and rose brown grass and wedges and spindles and trusses and tweezers and peppercorn cheese. In short, we get every color, texture, taste and almost-fingertip-touched longing, in this keenly noticed collision of the inner and outer life, this erotic, musical, painterly, reflective and seriously joyous book. I love every page of it." –Christopher Howell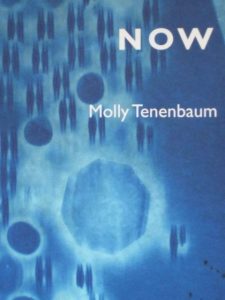 Now: from Bear Star Press
Now is a valentine from a poet in love with the world, and she has found the words to prove it. Read these poems aloud; let them swirl in "your earhole's riviera." Follow her into her garden, kitchen, library, heart. She will not lead you astray or maybe she will, but you will eat well, laugh, dance, and cry. Nothing is ordinary–her peace march turns into a "peach march." These poems are a sensual delight.  –Barbara Hamby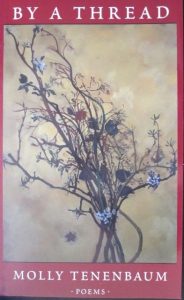 By a Thread: from Van West & Company
The poems in By a Thread–like the most intriguing melodies, the most alluring chords, the happiest and saddest of sounds and cadences–mesmerize. These poems have been structured and laid carefully, line upon line, nuance upon nuance, by the hand of a gifted writer. There are few conclusions stated among the brilliant and surprising images, no tight resolutions, no glib summaries. Read these poems for the truth of the reality they remember and for the truth of the reality they create.  –Pattiann Rogers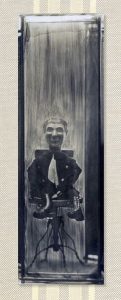 Exercises to Free the Tongue: poems and text by Molly
Tenenbaum, artist's book by Ellen Ziegler, printing and
binding by Paper Hammer.
Illuminated with historic images and ephemera from Molly's grandparents, ventriloquists on the vaudeville circuit in the early 1900s, this book of
poems plays with ventriloquial metaphors of voice and breath. The artist's book is printed in a limited edition of 20 copies; a less limited spiral-bound edition is also available. 5" x 13", 42 pages.