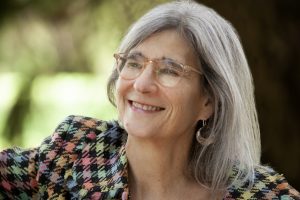 Molly Tenenbaum is the author of five full-length poetry collections: The Arborists (MoonPath Press, 2023), Mytheria (Two Sylvias Press, 2017), The Cupboard Artist (Floating Bridge Press, 2012) Now (Bear Star Press 2007), and By a Thread (Van West & Company, 2000). Her chapbooks are Blue Willow (Floating Bridge Press, 1998), Old Voile (New Michigan Press, 2004), and Story (Cash Machine, 2005). Her collaborative book with Ellen Ziegler, featuring photographs and poems about ventriloquism, is Exercises to Free the Tongue.
Her poems have appeared in various journals, including The Beloit Poetry Journal, Best American Poetry 1991, Black Warrior Review, Crab Creek Review, Crab Orchard Review,Cranky, The Diagram, Fine Madness, In Posse, Nimrod, The Mississippi Review, New England Review, North American Review, Poetry, Poetry Daily, Poetry Northwest, Prairie Schooner, River Styx, Shenandoah, and Swivel.
Honors include residencies at Hedgebrook and at the Helen Riaboff Whiteley Center, participation in the Jack Straw Writers' Program, and a Washington State Artist Trust Fellowship.
Molly plays old-time banjo music from the southeastern United States; two solo recordings are  Instead of a Pony and Goose and Gander. She plays for dances, weddings, and parties, in concerts and in cafes. She has taught and performed at festivals and camps across the US, including The Festival of American Fiddle Tunes, American Banjo Camp, Augusta, and Swannanoa.
She lives in Seattle.